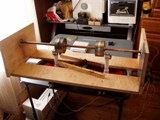 (Pictured above) the "dual rotor" model magnet motor.

http://www.youtube.com/watch?v=obOezFhbO9s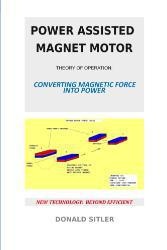 The ebook in Kindle format and the paperback book is available for purchase by clicking on the icon front cover page.

"If you want to succeed you should strike out on new paths, rather than travel the worn paths of accepted success". John D. Rockefeller

Dynamaticmotors is that new path.

Power Assisted Magnet Motor Technology - The New Natural Resource

DynamaticMotors is engaged in research and inventive development of ultra high efficiency permanent magnet/electric devices in the United States of America. The near all magnet motor models in the videos are low-power assisted permanent magnet motors. The devices all use permanent magnets interacting with one another to provide a motive force. The unique magnetic method employed in these motors creates the ability to escape normal magnetic conservation in a highly efficient manner.

This allows the possibility of magnetic force to be utilized and extracted from permanent magnets, without having to pay back all of the gain that was obtained, while converting this force into additional output which is measurable work performed.

The book, called "Power Assisted Magnet Motor", Theory Of Operation, covers in detail, the inner workings of the motor, and it's advantages; how it obtains gain. This will open a new high efficiency technology to schools of science and technology and the electric motor and energy industries, and to the engineer. The book is now available from Amazon.com and will also be featured at Magnetic Shield Corporation with their University lab kit. (Highly recommended tools for the University and student).

***Book Review by Engineer Don Lammersfeld:

"I found reading the book "Power Assisted Magnet Motor" very informative. Being interested in magnetics and now working here at Magnetic Shield Corporation, I feel that this book is a wonderful tool for the student along with our university lab kit."

Don Lammersfeld Engineer - Shielding Products
Magnetic Shield Corporation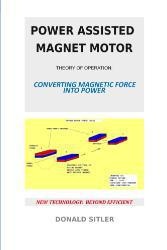 The ebook is available in Kindle format and the paperback book is available. (Click on the book) to take you there. The book's intended audience, should appeal to schools, scientists, engineers, inventors, experimenters, and anyone else.

DynamaticMotors performs the research and development of these new high efficiency devices. DynamaticMotors does not sell or manufacture any devices at this time. All tests performed are on an experimental model device and therefore suitability for any particular purpose is not suggested.











What if you could create a motor that is a power producer,
instead of a power consumer?


A newly invented technology of a near all magnet motor is revealed in a how-it-works book. The Power Assisted Magnet Motor takes a look inside, revealing a bit of out of the box thinking along with a common sense approach. The book is intended for study at the college level to the professional engineer, or the professional experimenter. Have you ever wondered how a motor can operate as a potential power producer, rather than an inefficient power consumer? You will find out how this technology can break the barrier of the ordinary electromagnetic motor level of efficiency, into the extraordinary near all magnet motor level of efficiency, potentially establishing a new standard for high electrical efficiency.

As an experimenter, inventor, and a computer engineer with a background in electronics, author Don Sitler applies his technical and mechanical experience and knowledge to find a magnetic method that works from magnet to magnet; resulting in a way to successfully extract energy from the permanent magnets in this motor, adding this extracted energy to the motor output. The book Power Assisted Magnet Motor is the result of years of work and study to document how this new technology can obtain such outstanding advantages.

------------------------------------------------------------------



To contact DynamaticMotors, please use our email contact which can be found on the menu on the left side.





Copyright 2016. DynamaticMotors.com All Rights Reserved.